- The Nigerian Senate has resolved to change a major impediment to recruitment in government agencies
- The Senate is set to mandate the agencies to de-emphasize age bracket requirements during recruitment
- This was the resolve of the upper chamber during its sitting today, November 8
The Nigerian Senate has resolved to mandate government agencies to de-emphasize age bracket requirements for recruitment of first time applicants.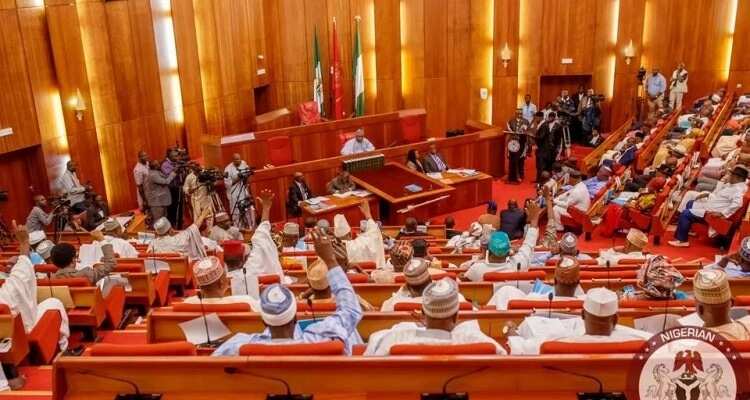 This was the resolve of the upper chamber today, November 8 during its deliberations on the need to remove the age bracket specification for recruitment and employment sponsored by Senator Matthew Urhoghide from Edo state.
The Senate moved the motion on the need to unburden recruitment requirements and modes to remove undeserved hardship for job-seekers in Nigeria.
The Senate also urged the federal government to explore the Graduate Scheme of the International Institute of Tropical Agriculture to ensure involvement and employment of youths in the agricultural sector.
READ ALSO: Senators CRY OUT: Politics no longer financially rewarding under Buhari
The Senate also directed government agencies especially security parastatals to enlist more youths towards enhancing security and to ease unemployment.
Contributing to the deliberations, Senator Biodun Olujimi from Ekiti state lamented the unfair practices by government agencies and private firms to push out eligible applicants.
On his part, Senator Shehu Sani from Kaduna state says different sets of rules are used for the rich and influential on one side and the poor on the other side.
The Senate's decision will go down well with majority of Nigerians, especially job seekers who have been ineligible for certain jobs because of the age bracket requirements for them.
Senate also resolves to have a retreat on ways to ensure proper employment for Nigerian youths.
Meanwhile, a recent media report has detailed how there is joblessness in the Nigerian construction industry due to the ongoing recession in the country.
READ ALSO: NDDC Board: "You are a listening leader" Niger Delta youths hail Buhari
According to the report, in the last one year, many construction companies, especially those handling major highway projects, have not been able to recall over 50 per cent of their staff that were hitherto laid off.