- Igbo leaders have declared that Biafran agitators does not constitute  threat to national security as feared by the President Muhammadu Buhari led Federal Government
- The leaders called on the Federal Government to promptly release Nnamdi Kanu and other prisoners of conscience in line with the rule of law
- The leaders equally described the herdsmen' menace as "present and imminent danger to peace and security in Igboland"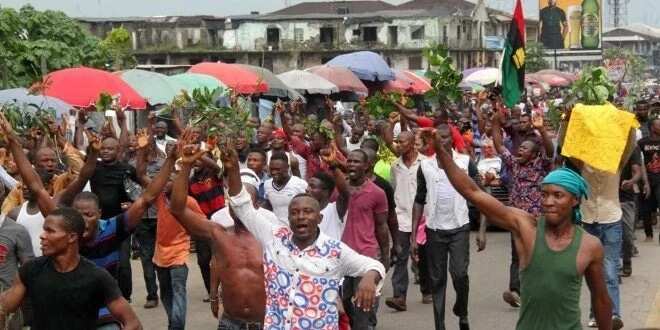 Some Igbo leaders have declared that Biafran agitators does not constitute  threat to national security as feared by the President Muhammadu Buhari led Federal Government.
Speaking after a three- day World Summit, the Igbo leaders called on the Federal Government to promptly release Nnamdi Kanu and other prisoners of conscience in line with the rule of law.
READ ALSO: Ondo Election: Jimoh Ibrahim attacks Mimiko
They insisted that henceforth, the Igbo will work for a nation where they are allowed to live and operate as equal citizens without discrimination or intimidation.
The summit described the herdsmen' menace as "present and imminent danger to peace and security in Igboland" and called on Igbo governors and state assemblies to immediately legislate against any form of grazing in Igboland.
The group also backed the regional autonomy call by the South-West as it demanded the repealing of the 1999 Constitution and enacting of a new one that will recognise the inalienable right of each constituent group to self- determination and regional autonomy as enshrined in the 1960 Independence and 1963 Republican Constitutions.
These was contained in a 10-point communiqué presented at Igbo Renaissance Centre, Gregory University, Uturu in Abia State, and  signed by Gen. Ike Nwachukwu, Dr. Chukwuemeka Ezeife, Col. Joe Achuzie, Dr. Greg Ibeh, Chief Emmanuel Iwuanyanwu , Prof. George Obiozor.
READ ALSO: Ondo Election: PDP denies Jimoh Ibrahim as candidate, slams INEC
The Igbo leaders said Igbo people have made the biggest sacrifice and contribution to the building of modern Nigeria.
Other prominent Igbo that attended the summit included Obi of Onitsha, Igwe Nnaemeka Achebe, Prof. Pat Utomi, Prof Ephipany Azinge, Joe Irukwu , Mazi Sam Ohuabunwa, Iyom Josephine Anenih among others.
READ ALSO: Mark Too's 'former lover' collapses at JKIA