- The Nigerian Airforce says Nigeri Delta militants should stop destrying the economy and polluting the environments with their activities
- Chief of Air Staff, Air Marshall Sadique Abubakar says the Airforce is ready to force the Niger Delta militants to stop their activities if they don't dialogue with the federal government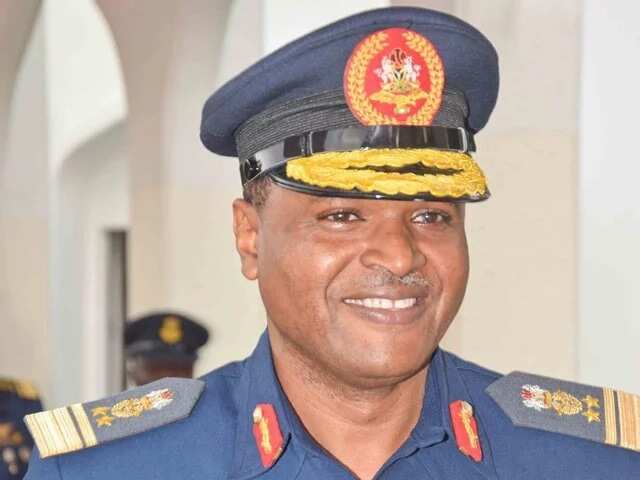 The Nigerian Airforce has issued a warning to Niger Delta militants in the south-south region to stop their attacks and dialogue with the federal government or be wiped out.
Leadership reports that this warning was issued on Thursday, October 27 by the Chief of Air Staff, Air Marshall Sadique Abubakar while commissioning new blocks of Airmen quarters at the 97 Special Operations Group (SOG) of Nigeria Air Force in Port Harcourt, Rivers state.
READ ALSO: SHOCKING: 25 human skulls found in Rivers as JTF arrests 44 IPOB members
He said: "Well, I think the Niger Delta problem requires a comprehensive solution. Our response is to protect Nigeria and Nigerians and Nigeria's territory. That is what we are doing. And the whole thing is about ensuring we have professional service.
"Professionalism requires training and about providing for the welfare of the people; that informed this accommodation.
"We have trained over 700 of our personnel in the last one year, that are in different parts of the world. And all these are about efficiency service. As we take care of training, we also take care of the welfare of the people.
"I started my career in Port Harcourt in way back 1983. They (Niger Delta militants) are not only destroying the economy, they are destroying the beauty of the environment.
READ ALSO: GOOD NEWS! Buhari prepares $10b to develop Niger Delta (video of militants)
"Our message to them is that they should embrace and dialogue with the Federal Government. On our part, we will continue to discharge our constitutional responsibility. We are not unaware of our responsibility. We are doing everything possible to protect Nigerians.
‪"We will do everything humanly possible to protect lives and ensure peace. The constitution has given us mandate to protect our people. Let them embrace peace; but, if they fail to do that, we have a constitutional responsibility to protect lives."
Meanwhile, some associates of the Niger Delta militant, Chief Government Ekpemupolo (alias Tompolo), have asked Federal High Court in Lagos to quash a N47.8 billion fraud charge brought against them by the Economic and Financial Crimes Commission (EFCC).
On April 18, Tompolo and others were arraigned on 22 counts of conspiracy, stealing, advance fee fraud and money laundering.