- Christian Association of Nigeria has advised the Federal Government to involve experienced clerics to assist in counselling the girls
- The Niger state chapter chairman, Mathias Echioda said that the call became necessary to help rebuild morals and lives of the affected girls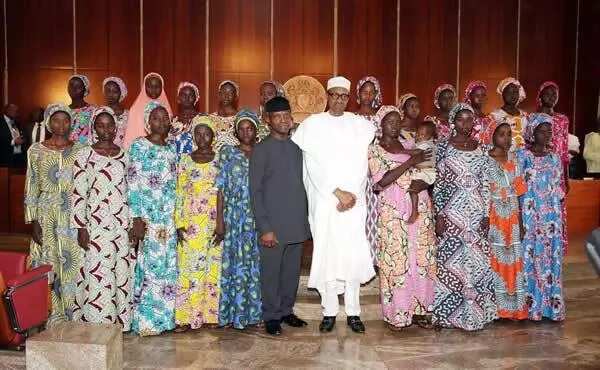 As the Federal Government is set to rehabilitate the recently released 21 Chibok girls, the Christian Association of Nigeria (CAN) has advised the Federal Government to involve experienced clerics to assist in counselling the girls.
Speaking for the association, the Niger state chapter chairman, Mathias Echioda said that the call became necessary to help rebuild morals and lives of the affected girls.
"I appeal to the Federal Government to involve clergymen that will use their professional based knowledge and faith to counsel the girls.
READ ALSO: Anti-Corruption War: PDP berates Buhari, APC
"Government should involve seasoned, experienced and informed clergymen to assist in counselling the girls to rebuild their morals and lives," he said.
He added that the effort would help the girls to overcome the physiological trauma they went through in the hands of their abductors.
"It is a welcome development because it is a miracle that Nigerians and the world have been expecting to happen, long ago. It came at a time when there was no clear knowledge of it coming.
"Our continuous prayer is that the remaining girls be released and reunited with their loved ones."
Mr Echioda expressed delight on the dialogue for the release of the remaining missing girls.
"We all know that some parents of these girls died of depression and shock and the 21 girls released will only refresh the wounds on the mind of the parents whose children are still missing.
"Negotiation does not mean yes immediately or no, it is a diplomacy and a civilised world should negotiate or dialogue, considering certain terms of reference and agreement.
READ ALSO: Obanikoro vs Fayose: Fayose opens up on N5.7 billion 'gift'
"Nigeria should not be looked at in the eyes of the world as not developing. I suggest that government should weigh the pros and cons of whatever decision to take in the process of dialogue."
Source: Legit.ng