- Nigeria's former president, Olusegun Obasanjo has said that Nigeria had no excuse for the deplorable state of its agriculture sector
- Obasanjo challenges Nigerians to work hard to attain zero hunger level in 2025
- The former president regrets that many farmers in the country are still using hoe and cutlass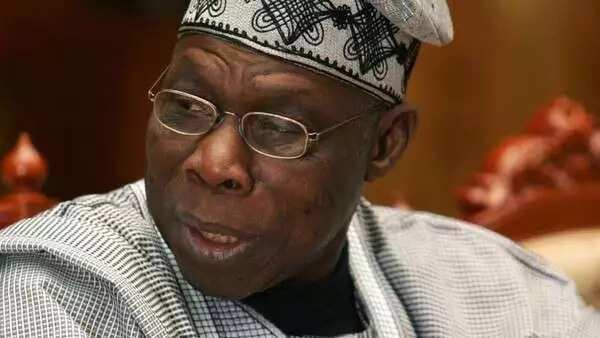 Nigeria's former president, Olusegun Obasanjo has said that Nigeria had no excuse for the poor state of its agriculture sector.
Obasanjo stated this at an agriculture seminar in Abuja organised by Lift Above Poverty Organisation (LAPO), a Non-Governmental Organisation (NGO) on Tuesday, October 18.
According to him, researches had revealed that about 65 per cent of the country's population were faced with "food insecurity''.
He called on Nigerians to make agriculture more attractive, saying that the country had a comparative advantage in the sector and should, therefore, not suffer food shortage, Vanguard reports.
Obasanjo expressed concern that investment in the sector could not address the food insecurity in the country.
READ ALSO: Fayose says he is not ready to make up with 'corrupt' Obasanjo
He said that some countries that went through the same challenges as Nigeria had all walked out of the problem, but that Nigeria's was getting worse.
"We must return to agriculture as a means to increase our food production in Nigeria. "We must all play our cards either in farming, processing, manufacturing, packaging, and we must put in our best to revamp the sector and address food insecurity in our country,'' he said.
Obasanjo challenged Nigerians to work hard to attain zero hunger level in 2025, adding that farmers should use appropriate technologies for better yields.
He regretted that many farmers in the country were still using hoe and cutlass.