- Seyi Malomo, the Chaplain of Aso Villa Chapel, has reacted to recent media reports alleging that Aso Villa was infested with evil spirits and demons
- Malomo said Nigerians should dedicate themselves to praying for God's righteousness to take over the land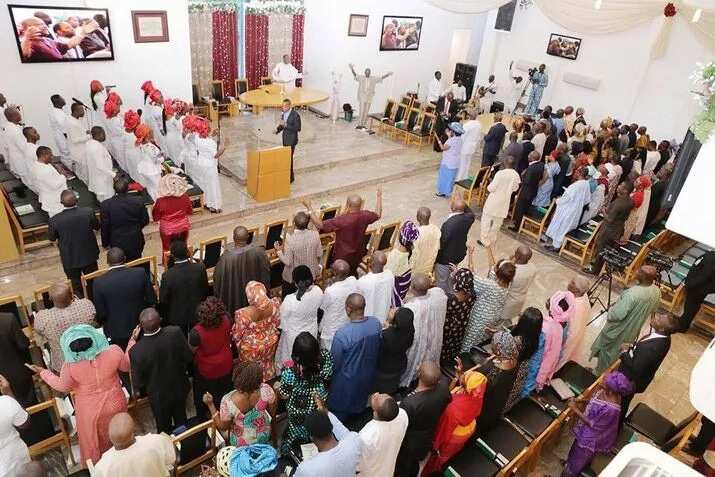 Seyi Malomo, the Chaplain of Aso Villa Chapel, has reacted to recent media reports alleging that Aso Villa was infested with evil spirits and demons.
The Chaplain stated this on Sunday, October 16, in Abuja speaking with Premium Times shortly after delivering a sermon as guest preacher during the African International College (AIC), Abuja thanksgiving/welcome service for its 2016/2017 freshers.
READ ALSO: The dark side of Aso Rock exposed, by Reuben Abati
Malomo said  said Nigerians should dedicate themselves to praying for God's righteousness to take over the land.
He said: "I am not saying there are no evil spirits. I am also not saying there are. I don't know what people believe. For me, I believe it is only righteousness that exalts a nation.
"Evil spirit is everywhere. Even the street you live, don't you have witches and wizards there?"
The chaplain said his advice was for citizens to pray for Nigeria and its leaders, particularly President Muhammadu Buhari, his family and all those working in the presidential villa, for God to cleanse the Nigerian seat of government of all alleged demonic influences.
Despite allegations the presidential villa was full of evil spirits, Malomo said there was nothing above prayers to seek God's intervention to restore righteousness in Nigeria.
On Friday, October 14, Reuben Abati, the spokesman of the former president Goodluck Jonathan, wrote an explosive article about the Aso Rock presidential villa where he said was "totally convinced Aso Rock Abuja is full of evil spirits."
READ ALSO: The curse and pain of power by Femi Fani-Kayode
Abati revealed that spiritual forces disturbed the Nigerian presidents from performing their functions.
Femi Fani-Kayode, a former aviation minister, agreed with Abati, saying "a lot of very strange things happened there" when he worked at the villa as spokesperson to ex-President Olusegun Obasanjo.
He said several other aides who worked in the Villa at the time were also afflicted with strange diseases and a sudden and tragic end.