- The President Muhammadu Buhari administration is not yet through with its ambition to sanitise the judiciary
- Just days after the Department of State Services raided some judges, a list of others under investigation and their alleged offences have been reportedly received by the president
A full list of some Nigerian judges currently undergoing investigation for alleged corruption has been released, Legit.ng has learnt.
Sahara Reporters claimed it exclusively got a confidential memo forwarded to President Muhammadu Buhari concerning the raiding and arrest of some judges in the country.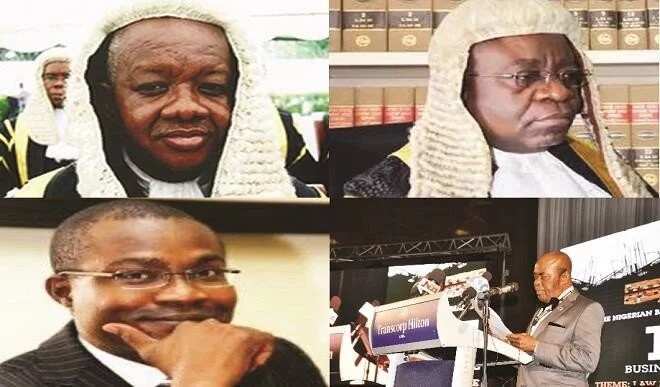 The report listed the judges as:
1. Justices Nwali Sylvester Ngwuta
2. John Inyang Okoro of the Supreme Court
3. Justice  Muhammad Ladan Tsamiya of the Court of Appeal, Ilorin division
4. Justice Uwani Abba-Aji of the Court of Appeal
5. Justice Adeniyi Ademola of the Federal High Court
6. Justice Mohammed Yunusa of the Federal high Court
7. Justice Kabir Auta of the Kano State High Court
8. Justice Munir Ladan of the Kaduna State High Court
9. Justice Bashir Sukola of the Kaduna State High Court
10. Justice Mu'azu Pindiga of Gombe State High Court
11. Justice Zainab Bulkachuwa, the current president of the Court of Appeal
12. Justice Ibrahim Auta, the chief judge of the Federal High Court
13. Justice Abdul Kafarati of the Federal High Court
14. Justice Nnamdi Dimgba
15. Justice Anwuli Chikere of the Federal High Court
16. Justices I A Umezulike, who was recently retired by the NJC
17. Ibrahim Buba
18. Rita Ajumogobia
READ ALSO: I will ensure every corrupt Nigerian pays dearly - Buhari
One unnamed judge was also mentioned in the list, according to Sahara Reporters.
According to the memo, Justice Chikere, wife of a Peoples Democratic Party (PDP) chieftain, Kenneth Anayo Chikere, was accused of receiving cash for a pre-election matter that came before her.
On his part, Justice Kabiru Auta was accused of collecting bribes from a businessman named, whose name was given as Alhaji Kabiru SKY, which led to his suspension before he was recalled.
The report said Justice Abdul Kafarati, who is due to become the chief judge of the Federal High Court, is facing several allegations of corruption. It was learnt that about N2 billion was found in the judge's bank account, but he claimed the amount was an earning from his farming business in Yobe state.
Justice Yunusa is alleged to have taken N5 million bribe from a senior lawyer, Rickey Tarfa while Justice Pindiga of the Gombe State High Court reportedly received N100 million from Governor Nyeson Wike of Rivers state to influence a ruling of the tribunal in favour of the governor.
READ ALSO: Justice Samson Uwaifo advocates jail term for corrupt judges
The report said Justices Munir Ladan and Bashir Suokla of the Kaduna High Court were recommended for arrest and prosecution based on several petitions of alleged bribe against him.
Justice Adeniyi Ademola has several allegations hanging on his neck apart from bribe. He was one of those arrested recently by the DSS.
Justice Ibrahim Auta is alleged to receiving bribe in order to assign some cases to corrupt judges who also give him returns while Justice Tsamiya is accused of demanding N200 million from an interested party in a case before his court.
Justice Zainab Bulkachuwa, in the memo, is said to be described as an incurably corrupt and stupendously wealthy judge just as Justice Abba Aji reportedly got N8 million from Mr Rickey Tarfa. This, according to the report, was partly why she was dropped from the list of judges for elevation to the Supreme Court.
READ ALSO: Abubakar Malami influenced my arrest – Ademola
Justice Ngwuta and Okoro, both of the Supreme Court, reportedly received N5 billion from Governor Nyesom Wike to ensure that the apex court ruled in the governor's favour concerning the election.