- While some Nigerians have continued to slam Mrs Aisha Buhari, the wife of the president, others are supporting her
- The Peoples Democratic Party (PDP) has also declared its readiness to register Aisha and give her a membership card
Mrs Aisha Buhari, the wife of President Muhammadu Buhari, has been offered an opportunity to join the opposition Peoples Democratic Party (PDP) after she lampooned the government of her husband as being hijacked by a cabal.
Aisha's interview with the British Broadcasting Corporation (BBC) has generated a lot of controversies recently. While some have supported her, others have castigated her.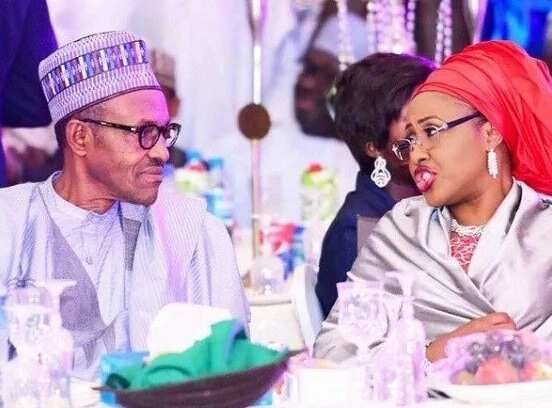 However, the PDP, through its former deputy national publicity secretary, Alhaji Abdullahi Jalo, said, in a report by the Telegraph, that it was ready to register the wife of the president and give her a membership card.
The report further quoted Jalo as comparing Buhari with America's Donald Trump over the Nigerian leader's reaction to his wife's interview.
Buhari had said his wife belongs to the kitchen among others.
READ ALSO: Okorocha joins call for Buhari to reshuffle cabinet
Donald Trump, a presidential candidate in US, has been severally accused of insensitivity to women.
"Buhari is becoming like a Trump of America whose past time is to scandalise women. That statement is very costly.
"We are advocating that (Mrs Hilary) Clinton should be elected to be the first woman to rule America and you are saying that you are turning your wife to be a house maid who has the right (only) to be in your kitchen and in your room.
"That is a costly statement, which will affect his electioneering campaign in 2019 if he decides to contest. The implication is that he doesn't like women.
"He is saying that women should not have right to be politicians," Jalo said, adding that Aisha has now assumed the role of the opposition.
He said if Buhari claims he does not know the party Aisha belongs, then the PDP was ready to give her a membership card.
READ ALSO: Junaid Mohammed reveals why Buhari is in Germany
He said: "As far as I am concerned, she has done the work of an opposition, and if she decides to join us, she will have a good reception."
Jalo said Islam recognises a leader's parents, his wife and the children are the ones that can advise him and that Aisha's interview is in line with religious injunction.
"What will affect the integrity of the president will affect her. She is taking cognisance of those that have suffered.
"People are even abusing her. Anybody that abused her has abused the president, because even if she is a divorcee, she has issues with Mohammed Buhari: she is Buhari and Buhari is she," he said warning that there could be serious consequence in 2019 if Buhari fails to heed the advice.