- Some angry youths have attacked the residence of a leader of the Shi'a Islamic sect, Mukhtar Sahabi
- The youths are reported to be inhabitants of the area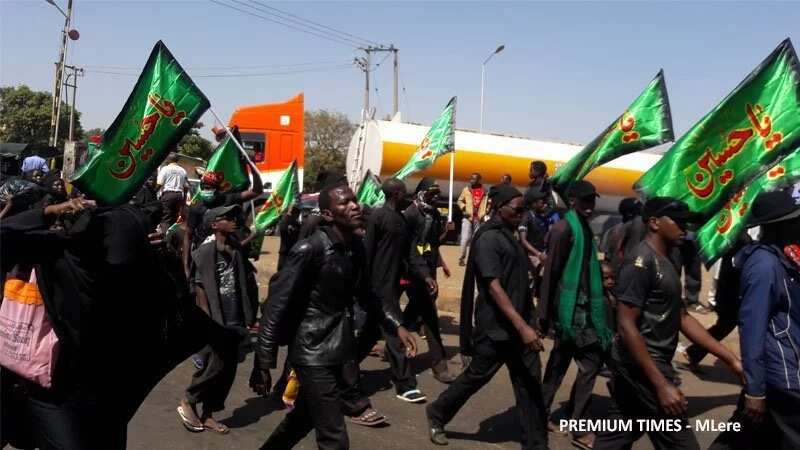 A number of people have been confirmed dead as some angry youths, on Wednesday, October 12, set ablaze the home of leader of the Shi'a Islamic sect, Mukhtar Sahabi, along Zango road, in Tudun Wada, Kaduna state.
According to Premium Times, four have been killed, however, a BBC source reports a death toll of 13.
According to Leadership, five were reported to have been killed in Katsina state, four in Kaduna and two died in Sokoto states, while several vehicles were burnt during the incident.
The youths who are reported to be inhabitants of the area, attacked some members of the Shiite sect who were living in the house.
READ ALSO: Beware Of Shia Muslims, Legit.ng Author Tells Buhari
"I was wondering what was going on this morning when I saw youths in hundreds setting the house on fire and before the security operatives could come all of them had gone.
"We are standing at a distance to see what next is going to happen. But there is peace around the area," said the witness who preferred to remain anonymous.
On Tuesday, October 11, some troops from the Nigerian army surrounded a gathering of Shi'a Muslims in Kaduna, with worshipers trapped inside days after the Kaduna state government declared the Shi'a sect illegal.
READ ALSO: Tension as soldiers confront Shiites in Kaduna
The UK-based Islamic Human Rights Commission (IHRC), said in a statement that the encircled worshipers were gathered to commemorate historical events associated with the Islamic month of Muharram that are particularly significant in the Shi'a calendar.
However, a resident said Zango community members who has always complained about the activities of the Shiite group gathering at Mr. Sahabi's residence said: "For me I will never support violence but Sahabi's house here is risky for us. Every evening they gather at his house singing hate songs against the governor and Buhari and even none Shiite people."
The area has been cordoned by security operatives.
See more photos from the scene below: