- The Nigerian Senate has condemned the actions of the Directorate of State Security (DSS) raid on residence of some Supreme court judges
- It charged the DSS, anti-corruption agencies and other law enforcement institutions to always act within the confines of the law
- The lawmakers said any action contrary to the law will give a bad impression of the country to the international communities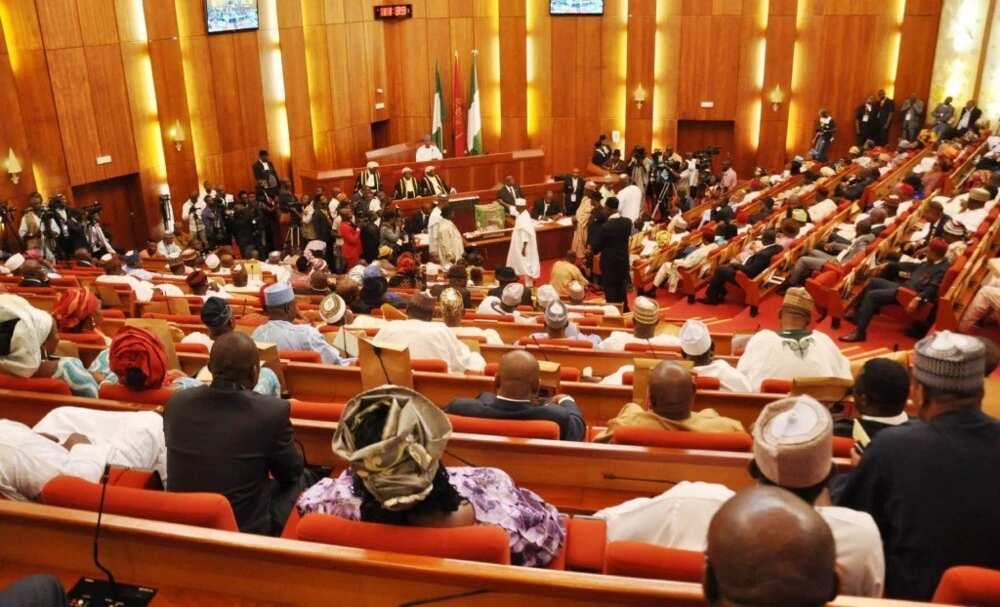 The Nigerian Senate on Tuesday, October 11, urged the Directorate of State Security (DSS) and all anti-corruption agencies to always comply with the provisions of the law in the exercise of their duties, particularly while prosecuting the anti-graft war.
In a statement issued by the chairman of its committee on media and public affairs, Senator Aliyu Sabi Abdullahi after it held an executive session on the DSS raid, the Senate expressed its support for the war against corruption which is one of the cardinal programmes of the President Muhammadu Buhari administration but warned that all actions taken outside the provision of the law in pursuit of the war will be a contradiction.
It charged the DSS, anti-corruption agencies and other law enforcement institutions as well as the National Judicial Council whose members are on the receiving end in the sting operation to always act within the confines of the law so as not to ridicule the noble objectives behind the war against corruption.
READ ALSO: Senate launches probe into DSS raid of judges' homes
"We cannot in any circumstance accept a situation where extra-judicial and illegal means are employed to pursue any state objective. Any strategy employed in pursuit of the anti-corruption war that offends or is contrary to rule of law or seek, appear or is perceived to compromise the independence of the judiciary is unacceptable to the Senate.
"Once again, we need to remind all agencies of government not to operate outside the mandate provided for them by the law of the Federal Republic of Nigeria. Any action contrary to the law will give a bad impression of our country to the international community", the Senate stated," he said.
READ ALSO: Senators, Reps condemn DSS raid on judges
The Department of Secret Service (DSS) had on Friday, October 7, announced that they raided the homes of some Supreme court judges across the country over allegations of corruption leveled against them.  The arrest of the judges followed a petition that they allegedly received bribes from Governor Nyesom Wike of Rivers state.
However, the DSS announced the release the seven judges, including two justices of the Supreme Court,on Monday evening, October 10, who were arrested on suspicion of bribery and corruption last week. They were reported to have been released on bail on self recognition.