Editor's Note: Baby factories are gaining ground as big business for Nigerians, especially in the south-east part of the country. Although some appear as homes for orphans, some bear the name of churches and charity homes but they function clandestinely as baby factories where young ladies are coerced to give birth to babies for sale. Austin Oyibode of NAIJ.om examines the business in Asaba, Delta State, being one of the biggest centers for the illicit trade in Nigeria.
The illicit trade in Asaba
For criminal conspiracy, Monday Yahaya, a welder, was sentenced to Ogwashi Uku prison over a few months ago. Ogwashi Uku prison is one of the four prison formations in Delta State. And since he was sent to jail, his wife, Aisha, has been living with the little resources she could lay her hands on.
But sometime in September, 2016, two female members of a baby factory syndicate, Nnoruka Obioma and Chidinma Anikwesiri, tricked her to steal her one year old child. Then, Mrs. Yahaya resided in the Umuezei quarter of Asaba, the Delta State capital.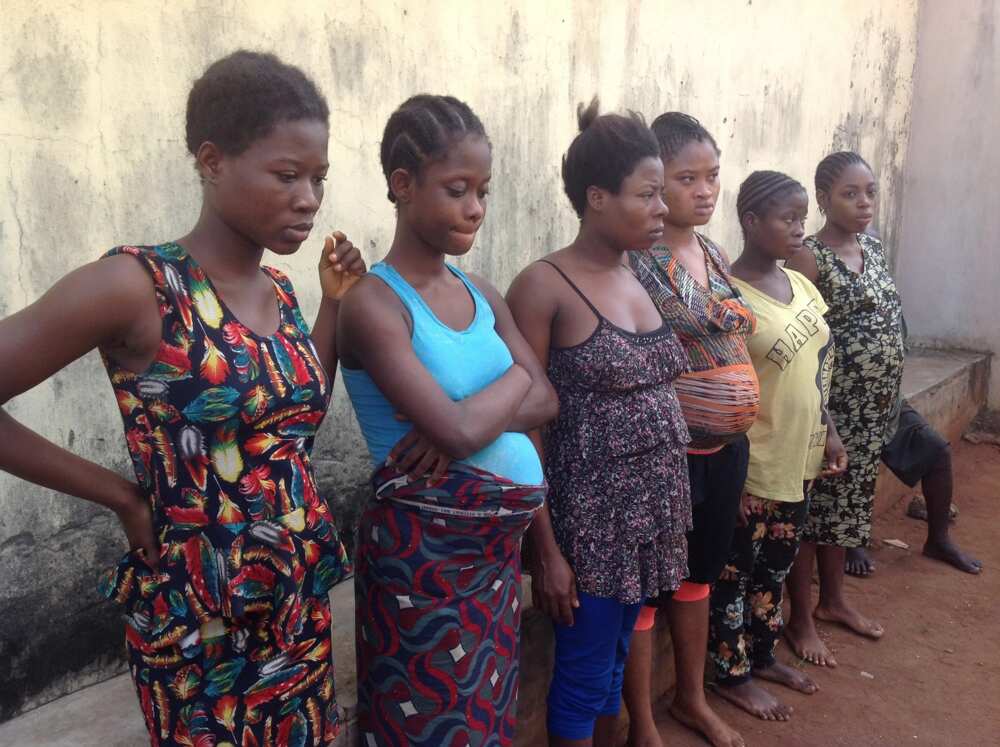 According to Mrs. Yahaya, the two ladies posed as prison officials from the Ogwashi Uku prison who had allegedly brought a message from her husband in prison for her. Mrs. Yahaya thereafter said she followed the two to a junction where they met one Abigail Nwakama who gave her N3000 to alleviate the suffering of her only child since her husband was pining away in prison custody.
She was told to use the money to buy clothes for her daughter, Fatima Yahaya, who was aged one year and one month. But unknown to her, it was a game plan to steal her only child for sale.
As the interaction continued with the Yahayas, the poor Fatima was surreptitiously stolen by the syndicate group who posed as messengers from the prison authorities. They were able to infiltrate Mrs. Yahaya because her husband has no access to mobile phone in the prison.
But with the suspicious moves of the trio, Mrs. Yahaya raised alarm that led to the immediate arrest of Nnoruka Obioma, 21, and Chidinma Anikwesiri, 20 while attempting to escape with the baby in Asaba.
Barely one month after the arrest of that group which specialized in buying children, another baby making factory was, on Friday, October 7, 2016, busted by the police around Bonsaac area of Asaba, within the state capital. Although the baby making factory where pregnant ladies within the age of 18 to 23 do come and deliver their babies for a fee has been operating for a period of time, the secret operations were let loose by a victim of the illicit trade.
READ ALSO: How Okija shrine worshippers invaded a community in Delta over solid minerals
A teenage pregnant lady, Blessing Aondoseer, who was deceived from Benue State and taken to the factory where she had her baby, blew the lid open as she was allegedly given only N2,000 purportedly from the proceeds of the sale of her two-week old son. Aondoseer, a victim of circumstances, found herself in the mess after her husband who impregnated her ditched her on the ground that he could not take full responsibility for the pregnancy. He took her back to her parents in Benue State.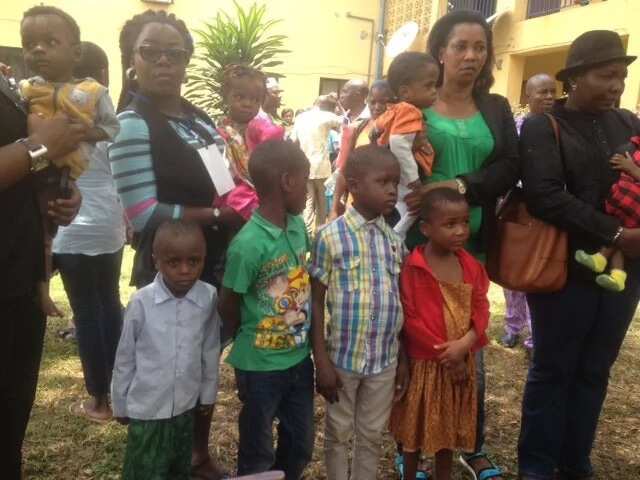 The parents could not take care of the pregnancy as the father and mother had divorced, hence she had no one to care for her. She was with her mother when another young man approached her for marriage, promising to take her to the city where she would have a good life.
Blessing and her mother fell for the bait, ostensibly blindfolded by the promise of a better life in an unknown city. The young man brought her with about eight months pregnancy to Asaba where one Jennifer Obi posed as estate agent to secure an apartment for the yet to be married couple.
The painful tale of victims
Narrating her ordeal through an interpreter at the Delta State Police Command, Blessing said "I was married and got pregnant for my husband who refused to take responsibility. He sent me back to my parents to take care of the pregnancy until after delivery. But when I got home, my parents had separated but I was able to locate my mother who could not take care of the pregnancy. Then a young man came having heard the story behind the pregnancy, approached my mother in the name of marriage.
"He took me from my mother and brought me to the city. He did not take me to his people but brought me to this woman, Jennifer Obi. The pregnancy was already eight months old. He said he will come back for proper marriage after the delivery.
"As soon as I delivered the baby, the young man came, connived with the woman to take my baby away. He told me that my baby will be sent to a special place so that the baby will not be an obstacle to our marriage, knowing that he was not the father.
"I resisted but they threatened that they will abandon me at the maternity to take care of the bill, hence I succumbed. They took me to Onitsha. I am a stranger here. As soon as we got to a place in Onitsha, they said this is the place. I came down, then they drove off immediately with the child.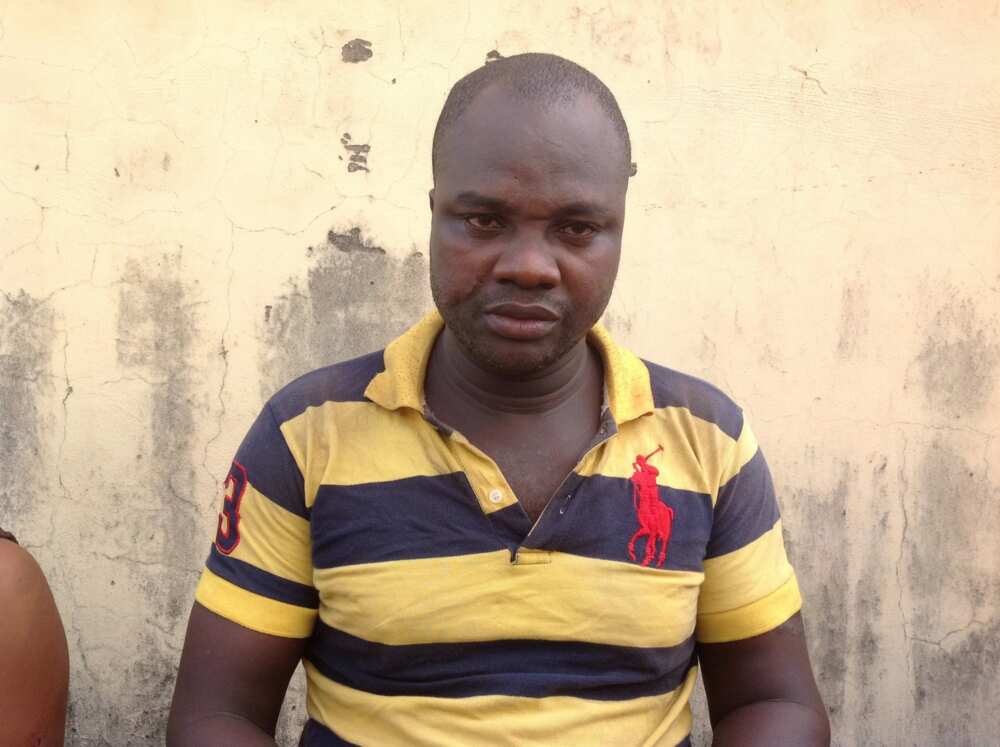 "So, I ran to my supposed husband who gave me N2,000 and brought me back to Asaba, rented a new apartment for me, bought three tubers of yam, five tubers of sweet potato and stayed with me for just three days before disappearing. That was how I started looking for a way out."
She thereafter launched a report at the 'B' Division of the Delta State Police Command, in Asaba, a development which prompted the investigation and the consequent arrest of the said Jennifer Obi and one Osita Okafor who claimed to be a driver by profession.
In August last year, eight pregnant girls were rescued from a baby factory also in Asaba, Delta state. According to the Public Relations Officer of the police command, Celestina Kalu, the baby-making factory was discovered after detectives, acting on a tip-off, swooped on the premises and arrested the operators.
"On July 30, 2015, police detectives from GRA Division Asaba, while acting on a tip-off, raided a suspected baby factory and arrested its operator, Mr. John Ihezun," Kalu said. Reportedly, the detectives also arrested two boys, Prince Chukwu and Obum Nwankwo, and found eight pregnant girls in the premises of the baby factory.
One of the syndicate groups is led by a pastor identified as Chinedu Strongman of Gospel Fire Ministry in Ogidi area of Anambra State. He was allegedly caught with twelve suspected stolen children from unknown parents. The 48-year old pastor aligned with others including Nkwele-Ogidi, David Ikesinachi, Ebere Edwin, Adaeze Enyi  and Chike Agwunenu, some of whom are now cooling off at the headquarters of the police command in Asaba.
It was gathered that pastor Strongman paid N400,000 for each child sold to him. Public Relations Officer of the command, Celestina Kalu, said seven other girls, out of which six are pregnant, were also arrested in the house of Osita Okafor in Oduke area of the state capital.
READ ALSO: Another BIG trouble for PDP, this state chairman was wrongly sworn in
Kalu gave the names of the pregnant ladies as Joy Chinwedu, Amaka Emeka Joy, Deborah Ogbona, Ifyunnaya Agu, Chinechere Agbo, Ogochukwu Okwe and Chioma Emmanuel, adding that they had confessed that they were there to sell their babies after delivery. But Osita Okafor and Jennifer Obi who allegedly connived to buy Blessing's daughter, denied membership of the syndicate.
The denial of factory operators
Okafor, who claimed to be a driver, said he operates the Asaba-Onitsha route, adding that his wife who is a trained midwife travelled for the past three months. He said the pregnant ladies came to his house for treatment when the police swooped on them.
"All these people came for treatment when the police came to arrest me. This girl (Blessing) sold her baby in agreement with her husband but the husband escaped with the money and gave her just N2,000. So, this girl brought vigilante to arrest this woman who is the estate agent that helped them with apartment. This girl and her husband conspired to sell the baby just that she got only N2,000.
"I am driver. My wife takes care of pregnant women. My wife's name is Ngozi Okafor. She has no maternity but is operating from home. I am 40 years old and I have three children," he said. On her part, Jennifer Obi said she was suffering for no sin of hers, saying that as an estate agent, she secured the apartment for Blessing and her husband.
"I am an agent, the husband of this girl called me to look for apartment for them and I saw one for them. The day we were moving into the house, she was complaining of labour, I helped them to Blessed Mama Maternity at Okwe where she delivered.
"Then they took the baby away only for this girl to raise alarm that her husband has run away with the baby. She said her child was sold and her husband has escaped with the proceeds, and that I was a beneficiary. I don't seem to understand how I became involved in the child selling scandal", she said.
Why girls are lured into the business
But investigations by NAIJ.om revealed that the suspects and some of the victims were driven into the crime by poverty, hunger and lack of care from whosoever. One Miss Ihezue Angela, who hails from Imo State, said "life has been difficult, so, I was looking for work and my brother brought me to Asaba and I was introduced to the operator who offered me job in his proposed polythene producing factory where the police swooped on us."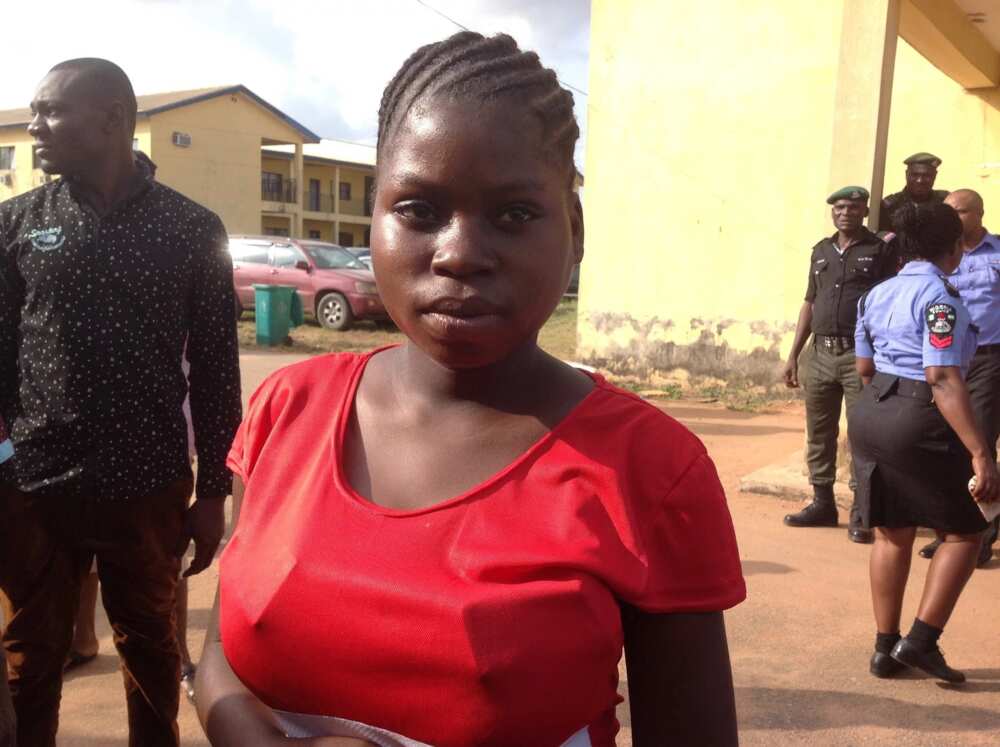 But another 20 year old Blessing, who claimed she got pregnant for her boyfriend in Anambra State, said her boyfriend denied the pregnancy and ran away while her parents chased her away from home, so the 'factory' was just her last resort, at least to take care of herself and keep soul and body together.
She said: "As I was at a crossroad, I was introduced to the operator of the baby factory, I begged him and he agreed to take care of me, hence I began to stay there until the police arrested us. Honestly, I never knew it was a baby factory."
On her part, Miss Ibechukwu , 15 year old girl, said she was brought to the home by her sister to spend holidays and do vacation job in the polythene factory, noting that the operator of the factory allegedly forced her into the 'business' of making babies for sale.
In the same vein, Miss Isioma (20), who claimed to have hailed from Enugu State, said she got into the 'business' through a phone number on a notice board that asked people to apply for a job and she applied.
She said "when I came into the factory, I saw others with the operator, and after discussing with him, he offered me job as Factory Assistant, where I stayed without doing anything except men coming to make love to me at nightfall. I was always asking when the factory will commence and the operator keeps telling me to be patient until we were arrested."
Another lady, who anonymously spoke in the same vein, claimed she was forced into the business as a result of hunger and poverty in her family, adding that "We were lured into the factory where the operator introduced men to be sleeping with us."
It was further learnt that the new born babies are sold either to adoptive parents, for rituals or into outright slavery. One thing discovered was that the factory owners do not ask for what intent is the child being bought, they only sell the child and abandon the purpose for which the child is sold.
Investigations showed that some have documents and others have ways of dealing with the police and courts, they settle the police and the business goes on unabated. Even when they are arrested, they are released after settling the police and the business is not disturbed.
READ ALSO: INVESTIGATION: Culture of death: Twins murder and infanticide in the FCT (video)
While some baby factory operators say some of the ladies are there on their own volition, alleging that they got pregnant by mistake and were sent packing from their homes, emerging facts are indicative that many of the victims were compelled or deceived into the factory business unknown to them.
It was gathered that the horrible business of baby factory started as homes for women who needed help but has now been taken over by criminals who want to make money by all means possible.
Why people patronize baby factories
But why are people patronizing baby factories in Nigeria? Some are of the view that the economic situation in the country predisposes Nigerians to conditions they would otherwise not want to get themselves into. ''Today, many Nigerians barely make ends meet. Some are so impoverished that three meals a day is a mere wishful thinking. Then, imagine someone who can barely fend for herself becoming pregnant. What hope is there for the child when the mother or both parents have no hope themselves? I think that the general economic hardship is fuelling developments like baby factories, ''Mr. Jerry Ikomi, a civil servant, said.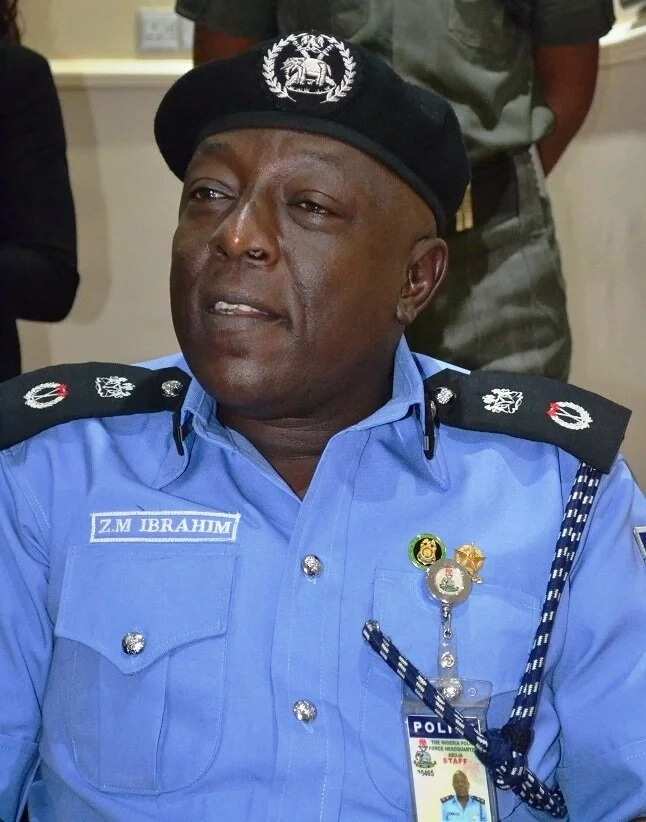 For Mr. Didi Ijeh, the ''fact that people can collect as little as N80, 000 or N100,000 to forfeit the babies they carried for nine months, only speaks volumes of the high level of poverty in the land and the level of moral decadence in the society.''
He said ''because of this same poverty syndrome, people are converting their houses to baby factories and recruiting girls and boys to get pregnant not because they want the babies but for a fee. What else could make anyone lend himself/herself to that kind of arrangement if not for poverty?'' he queried.
Others see it as the easiest way to get children, rather than going through the long process of public procurement of children through government agencies. Besides that the unfair nature of society also predisposes people to buying children from baby factories.
"Let's face the fact, society has not been fair to adopters, we look at them as if they are from another planet. You and I know that we are not favourably disposed to those who adopt babies or the babies they adopt. We stigmatize them for no fault of theirs. You have observed that adoption is not openly done. Why? Because of this issue of stigmatization. So, why do you think that people would not gladly embrace what looks like a viable option to adoption?'', Mrs. Mabel Oti, a market woman, asked.
In the views of Mrs. Florence Eboh, the process of adoption is long and strenuous. ''There are layers of investigation to be done by the government agency involved before the letter of adoption can be issued. And even after this, you would have to wait until you find a child that has the features you are looking for in any of the public-owned orphanages.
 "Sometimes, this waiting can be prolonged by the orphanages who may deliberately not want to release some of the children. Besides, government, through the social development agency, would have to, from time to time, monitor the administration and development of the child and not so many people cherish that kind of interference in their homes. This, in my view, is why many of the people who have need for babies prefer to go through the back door,'' she submitted.